Pallet Trucks PB Series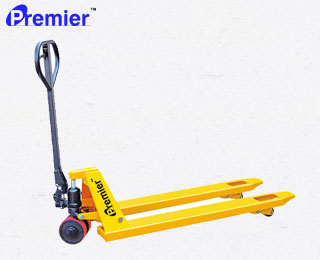 Specifications
Pallet Trucks PB Series
Model
PB
Capacity
Q(kg)
2000
Lowered fork height
h13(mm)
75
Steering wheel
mm
ɸ160
Fork wheel single
mm
ɸ70x80
Fork wheel tandem
mm
ɸ70x60
Max. lift height
h3(mm)
190
Total height
h14(mm)
1160
Overall length
l1(mm)
1520/1590
Fork length
l(mm)
1150/1220
Width overall forks
b5(mm)
520/550/685
Ground clearance, centre of wheelbase
m2(mm)
22
Aisle width for pallets 1000x 1200 crossways
Ast(mm)
1720/1790
Aisle width for pallets 800x1200 lengthways
Ast(mm)
1770/1790
Turning radius
Wa(mm)
1265/1335
Service weight
Kg
55-60
Standard epoxy powder coat finish which is resistant to chips and normal corrosion.
Exceptionally strong but light weight steel construction, service weight is only 55kgs.
With welded joints and reinforced fork tips for most durabilty in the toughest of appications.
3 Position hand control- Raise, Lower, Neutral.
Excellent turning angle of 190 degrees facilities.
Number of pump strokes 12 times,lift height per stroke 11mm.
Relable oil leak-proof hydraulic system.
Confirm to EN 1757-2.
Option:
Nylon wheel, polyurethane wheel, rubber wheel, single fork roller or tandem fork rollers.
Fork length:800mm,900mm,1000mm,1100mm.