PLASMA CUTTING MACHINE CG1 30K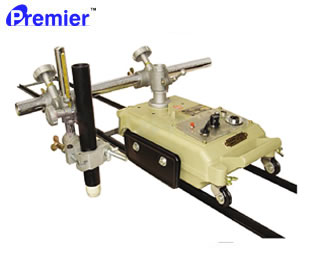 Description:
The body is made of High strength Aluminium pressure die casting.
Abrasion resistant Manganese Steel Track.
A special plasma torch holder is supplied so that a vide range of Plasma torches can be used with this machine.
The electronic speed control provides a vide and precise range of speed control suitable for plasma cutting operation.
The max speed is almost 4 times of normal gas cutting trolley.
4 Wheel design ensures jerk free smooth movement providing excellent cut finish.
Machine control output eliminates the need of operating the Plasma machine separately.
The plasma machine is turned on and off through this machine directly in sync with movement control.
Can use circle cutting attachment to cut circles.
Specifications
CG1 30K
Model No.
Overall
Supply
Cutting
Cutting
Dia of Circle
Weight
Dimension
Voltage
Thickness
Speed
Cutting
KG
MM
V/HZ
MM
MM/MIN
MM
CG1-30K
470x230x240
AC 200/50
Based on plasma source
50-4500
200-2000
12.5