WELDING GENERATORS TE 11000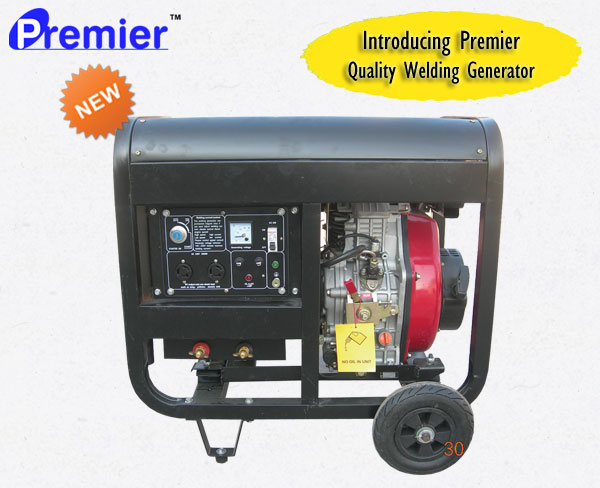 Description:
Premier TE series permanent magnet DC welding generator can be used for different type of welding operations ( Can use SS, MS, 6013, 7018) with high quality welding finish.
The welding output is DC and has characteristics like high quality finish welding beads, Less splatter, east start etc. Also the new permanent magnet rotor greatly improve the reliability of the welding alternator.
Output rectifier designed for long welding durations heavy current. The body strength has also been improved for high durability.
The machine is latest model in our wide range of products; the machine belongs to the FHS series, and upgraded version of the rotor magnet arrangement and an optimized mode of rectifier.
Description

TE11000SDC

Electrical welding Generator Data

Generator technical data (AC)
Rated power(KW)
2
Voltage (D.C)(V)
230V
Phase type
D.C output
Electric welding Technical Data(DC)
Electrical welding voltage in idle
D.C 60-7-V
Working voltage for electric welding
D.C 25-30V
Electric welding load lasting rate
60%
Current range of electric welding
80-230(A)
Speed (rpm)
3000/3600
Excitation
Permanent-magnet
Frame way
Open frame steel handcart
Dry weigh (lbs)
111
Dimensions (LxWxH)(mm)
740x500x630

Engine

Engine model
186FA(E)
Output
Continuous (KW)
6
Maximum(KW)
6.6
Borex stroke (mm)
86x72
Displacement (cc)
418
Lube-oil capacity(oz.)
1.65
Fuel tank capacity (US.gal)
15
Lubricating system
Pressure splash,duplex type lubrication
Starting system
Recoil manual start/Electric start
Cooling system
Forced air cooling by flywheel fan
Features :
New control panel for easy operation.
Permanent magnet rotor structure has been upgraded for better durability.
Improved rectifier components increase the welding load duration increase by about 60%.